SSP eHSA Exam vs HS&E Test - What's the difference?

The online HSA course is designed for individuals working in construction and provides practical advice on keeping yourself and your colleagues safe, the majority of delegates who take this course do so to meet the requirements of the CSCS Labourer card.
The HSA course takes approximately 3 hours to complete followed by an online exam with a cost of £99.00. The HS&E Test is a mandatory requirement for ALL CSCS card applications and can be booked to be taken at a Pearson-VUE test centre at a cost of £22.00.

While the HS&E test is a mandatory requirement for all CSCS cards the online HSA course can ONLY be used to apply for the CSCS Labourer card

We have found that when booking the HSA exam following course completion, a small number of delegates have accidentally booked the HS&E test, so please ensure you book correctly following completion of your course.
Which one do I need?

To apply for your CSCS card you need to have completed and passed both the HSA course (including end of course examination) and the HS&E test.

HSA

With eCourses, you can now complete your HSA qualification completely online by simply following these steps.
Buy your Health and Safety Awareness eCourse right here on the eCourses website for just £99. If your employer is paying, they can purchase a voucher for you to use instead

Complete the HSA eCourse in your own time
Once completed, you can book your online HSA exam with our partners, Pearson VUE. This is all included in the price

How to book the HSA Examination online
Completing your online HSA course will be shown on your dashboard, and you will then be able to book your examination, using the link shown.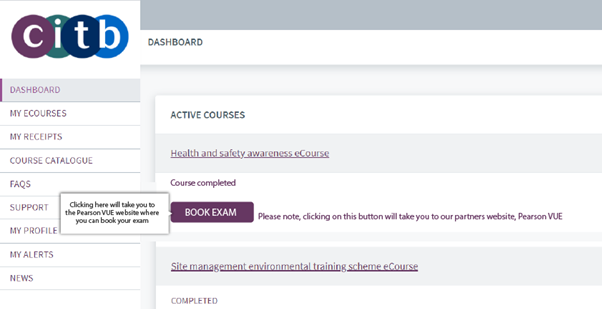 Click the "Book Exam" button, shown on your dashboard and follow the on screen instructions, being careful to book at the correct time of day required.
Once you've passed your HSA examination, a certificate will be available for your to download which you can use as evidence to support for CSCS labourers card application.

Please note
You should take care when booking your exam that you have selected the correct option as rebooking your exam will incur a cost of £21.
FAQs
Do I need to do the qualifications in order?

Do I have to do my HSA online?

Do I have to complete the HSA eCourse before taking the HSA exam?

Where do I go to book my HS&E test?